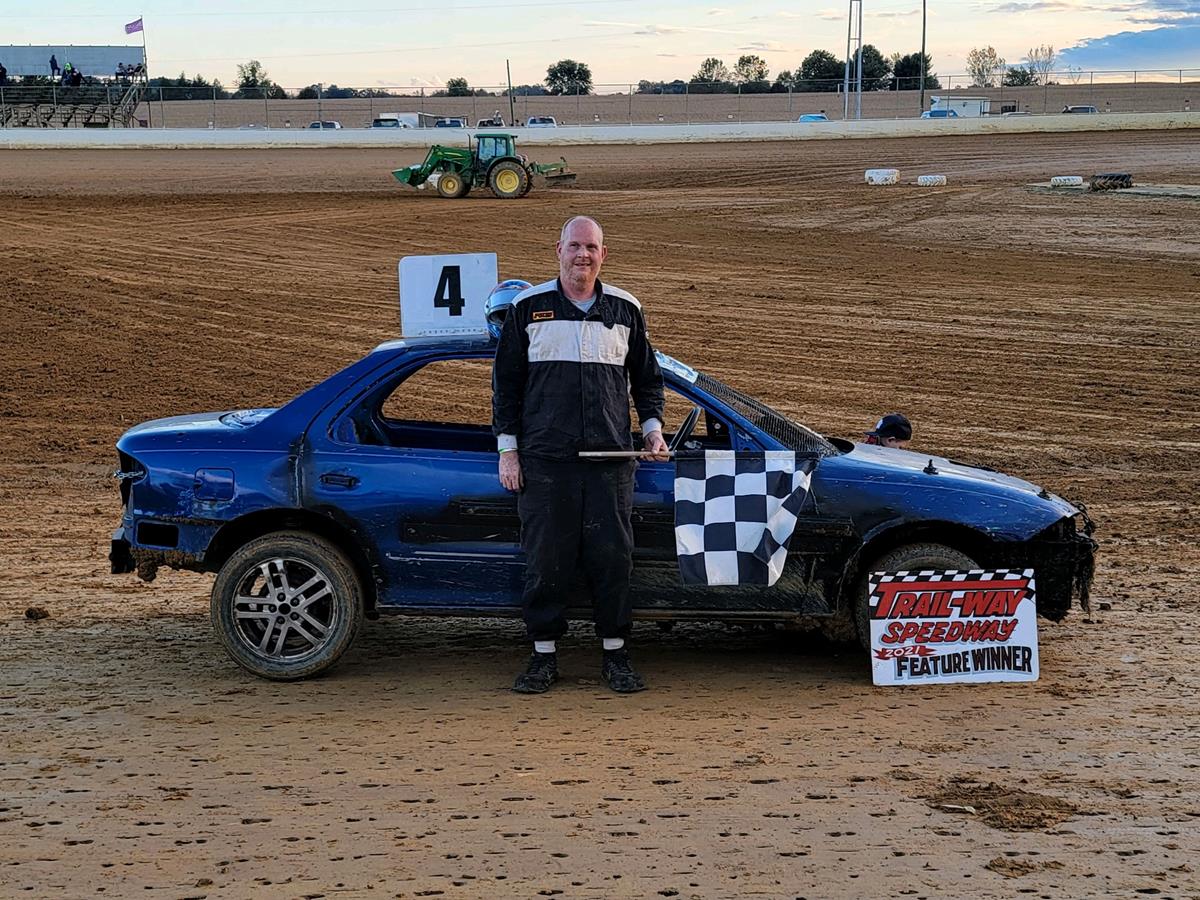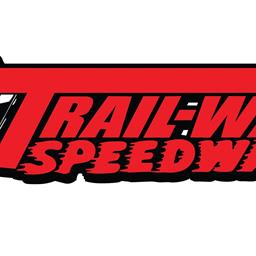 10/23/2021
Trail-Way Speedway
---
Carl Davis Jr. Smashes His Way to Three Big Wins at Halloween Havoc
HANOVER, PA - Rob Storms and Robbie Carroll scored Scramble Car wins at Trail-Way Speedway's annual Halloween Havoc event.
Carl Davis Jr. swept both Figure 8 Small Car & Big Car features and crashed and smashed his way to Junk Car Big Car victory. John Shorb Jr. was the last driver standing in the Junk Car Small Car event.
Brenda Brown raced her way to victory in the 10-lap Powder Puff feature.
Trail-Way Speedway Complete Results from October, 23, 2021
Powder Puff Feature (10 Laps): 1. 28-Brenda Brown[4]; 2. 24-Michelle Lockard[1]; 3. 29-Misti Kopp[6]; 4. 16-Skylar McMullen[8]; 5. 31-Hailey Hersey[9]; 6. 68-Beckie Carroll[11]; 7. 65-Chelsea Sparkman[7]; 8. 39-Casey Schmoyer[2]; 9. 01-Amanda Zepp[5]; 10. 30-Alexis Archer[3]; 11. (DNF) 59-Ayana Mintmier[10]
Figure 8 Big Car Feature (12 Laps): 1. 4-Carl Davis Jr[1]; 2. 01-Marlyn Runk[5]; 3. 69-Robbie Carroll[3]; 4. 61-Devin Wine[4]; 5. 49-Wes McDaniel[9]; 6. (DNF) 37X-Matthew Cromwell[6]; 7. (DNF) 99-Creden Sponseller Jr[2]; 8. (DNF) X-Kyle Randall[8]; 9. (DNF) 87-Wesley Miller[7]
Figure 8 Small Car Feature (12 Laps): 1. 4-Carl Davis Jr[13]; 2. 9-Darryl Kump II[2]; 3. 28-Brenda Brown[1]; 4. 95-Jon Ankney[4]; 5. 46-Joshua Spangler[8]; 6. 3-Roger Kirby Jr[16]; 7. 39-Phil Levering[6]; 8. 18-Tyler Denike[11]; 9. 98-Daniel Hamm Jr[18]; 10. 45-Bo Sheeler[3]; 11. (DNF) 59-Ayana Mintmier[5]; 12. (DNF) 93-Joey Brown[12]; 13. (DNF) 34-Dylan Sheeler[7]; 14. (DNF) 78-Ricky Davis[15]; 15. (DNF) 16-Tim Baird[17]; 16. (DNF) 04-Michael Trageser Jr[10]; 17. (DNS) 99-Creden Sponseller Jr; 18. (DNS) 71-Gary Claypoole
Scramble Car Feature #1 (15 Laps): 1. 80-Rob Storms[11]; 2. 16-Julio Perez[1]; 3. 98-Daniel Hamm Jr[9]; 4. 54-Don Smith[20]; 5. 19-Roy Denike[17]; 6. 31-Holden Hersey[6]; 7. 64-Ben Stoner[8]; 8. 01-Marlyn Runk[12]; 9. 88-Thomas Brady[14]; 10. 30-Devon McCarthy[7]; 11. 55-Jason Kline[2]; 12. 68-Beckie Carroll[16]; 13. 7-Justin Mong[15]; 14. 24-Michelle Lockard[10]; 15. 18-Mandi Denike[3]; 16. 87-Wesley Miller[19]; 17. 6-Robert Fox[5]; 18. (DNF) 26-Jeff Dillman[18]; 19. (DNF) 90-Sam Shipley[4]; 20. (DNF) 77-Wayne Kopp[13]
Scramble Car Feature #2 (15 Laps): 1. 69-Robbie Carroll[1]; 2. 44-Jim Jacobs[11]; 3. 29-Joe Luckenbaugh[12]; 4. 49-Wes McDaniel[20]; 5. 99-Creden Sponseller Jr[4]; 6. 47-Tyler Santay[8]; 7. 40-Robert Dubs[2]; 8. 45-Bo Sheeler[10]; 9. 25-Tyler Kline[14]; 10. 39-Phil Levering[19]; 11. 37-Michael Trageser Sr[16]; 12. 04-Michael Trageser Jr[18]; 13. 32-Ethan Naugle[6]; 14. (DNF) 9-Darryl Kump II[9]; 15. (DNF) 56-Brad Kress[5]; 16. (DNF) 92-Danny Mintmier[17]; 17. (DNF) 59-Ayana Mintmier[13]; 18. (DNS) 46-Joshua Spangler; 19. (DNS) 34-Dylan Sheeler; 20. (DNS) 71-Jordan Givler
Junk Car Big Car: 1. 4-Carl Davis Jr[1]; 2. 61-Devin Wine[7]; 3. 37-Richard Wine[8]; 4. 10-Dalton Wine[6]; 5. 32-Tyler Fisher[2]; 6. 8-David Herr[3]
Junk Car Small Car: 1. 913-John Shorb Jr[14]; 2. 87X-Justin Morgan[9]; 3. 88-Tyler Kline[6]; 4. 87-Wesley Miller[7]; 5. 88J-Jacob Hessong[5]; 6. 70-Daniel Hamm Jr[4]
---
Article Credit: Trail-Way Speedway
Back to News